Scientific Explorations
My most recent workshops are on top.
If you don't find your workshop here go to the archive.
To find specific activities go to the alphabetical index.
Look at the new Topic Index


The Brain first meeting of a 4 week course.

4 April 2015

Build an LED point source and find the location of images of it.

13 December 2014

NGSS STEM conference

21 November 2014



| | |
| --- | --- |
| The Exploratorium Teacher Institute works with Science leader monks and nuns as well as Geshes in Dharamsala India. | |
| | |
| --- | --- |
| Coursera Re-Engineering your science curriculum | |
Ligo 2013

and Electromagetic Spectrum

24 August 2013
Exploratorium Observatory
September 2012
| | |
| --- | --- |
| University of Denver 2012 | |



Tides

There are huge tides in the Bay of Fundy.

The tides on earth are pulled up by the gravity of the moon which decreases from the near side of the earth to the far side, creating two tidal bulges each day.
| | |
| --- | --- |
| A TI workshop February 2012 | |
| | |
| --- | --- |
| A lecture series for Geshes, Dharamsala 2011 | |
| | |
| --- | --- |
| Americas Cup San Diego, 17 Nov 2011 | |
| | |
| --- | --- |
| A workshop at Flax 22 Oct 2011 | |
| | |
| --- | --- |
| High School Science at the Exploratorium. | |
| | |
| --- | --- |
| Developing Material Science Activities for Everyone | |
| | |
| --- | --- |
| Build airplanes of paper and styrofoam. Explore the physics of flight. | |
| | |
| --- | --- |
| Paul Doherty Peter Hopkinson | |
Attend a Summer Institute on the Web.
On June 22, 2009 I started teaching a month-long workshop for high school physics teachers. This year will be the 24th time I have taught this institute.
Join me each day to see what questions we ask.
Each day is full of explorations of a specific topic. Here is the plan, we'll see what actually happens!
Summer 2010 notes See below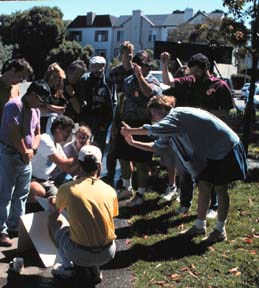 Teachers making images of the sun with pinholes made by crossing their fingers.
TI Supply carts, these crucial carts full of simple supplies are necessary when doing hands-on science.
Snackbook 2Ed.

Paul, Don Eric and Modesto present the new improved Snackbook.

Gray Step
The Exploratorium no longer makes the gray step postcard, here is a version for your printer.

January 30, 2010
Build and study a telescope.

December 5, 2009

Atom explorations

December 5, 2009

Flow

Wave explorations October 24, 2009

| | |
| --- | --- |
| Wave explorations August 2009 | |
| | |
| --- | --- |
| Iron Science Teacher, Nuts and Bolts, 26 June 2009 | |
| | |
| --- | --- |
| Explorations.28 March 2009 | |
| | |
| --- | --- |
| Explorations.28 March 2009 | |
| | |
| --- | --- |
| Explorations.28 March 2009 | |
| | |
| --- | --- |
| Explorations.21 March 2009 | |
| | |
| --- | --- |
| Motion Explorations.13 March 2009 | |
17, 18, 19 February 2009

Three days of science explorations for middle school teachers at the Laser Interferometer Gravitational Wave Observatory.

14, 15 February 2009
Two days of science explorations for middle and high school teachers and professional developers at Sci Tec in Ruston Louisiana.

How glacier ice records the temperature versus time over the last few hundred thousand years.

14 December 2008
Exploratorium Teacher Institute Workshop

The atmospheric greenhouse effect is not the greenhouse effect that occurs in greenhouses.

22 November 2008
Exploratorium Teacher Institute Workshop

Converting potential energy into kinetic energy.

15 November 2008
Aircraft Carrier Hornet
A colloquium about the physics of the Sun.

5 November 2008 Exploratorium
Learn Science by Doing Science
a presentation by Paul Doherty

1 November 2008
Measurement
Error propagation

A TI workshop on 18 October 2008
Searching for the meaning of weight.

A TI workshop on 11 October 2008
Play music to the rhythm of pendulums

The math behind pendulums and palm pipes.
| | |
| --- | --- |
| Light activities in our darkroom. | |
Teacher Institute workshop

April 26, 2008

Jamylle Carter and Paul Doherty
2007 workshop for the CMC Asilomar Conference

Jamylle Carter and Paul Doherty
Zoom :Scaling and image processing

with Jamylle Carter
Bay Area Mathematics Project, 20 October 2007

A keynote lecture by Paul Doherty
| | |
| --- | --- |
| Pola bear fur is hollow and is rough inside. This makes it scatter light. Thus it is the opposite of a fiber optic. | |
Explore magnetism

19 May 2007
| | |
| --- | --- |
| Starring Curt Garielson and his mighty Roach motor | |
| | |
| --- | --- |
| Electric Force, Field, Potential Energy and Potential | |
| | |
| --- | --- |
| A workshop about building museums in Second Life. | |
| | |
| --- | --- |
| Workshop at the Exploratorium, on weather and climate. | |
| | |
| --- | --- |
| Using high tech gadgets to explore science:digital cameras see in the Infrared, computers as sound analyzers, polarized light sources and strobscopes. | |
| | |
| --- | --- |
| A Workshop Given on 22 April 2006 | |
| | |
| --- | --- |
| Teacher workshops to prepare for the CSET exam. | |
A lecture presented in Italy for Astronomy Week, in April 2004. The lecture was given in Naples, Rome and Perugia.

This lecture was given in Pavia and Naples.


Burning magnesium in CO2
Polar Bear fur is fiber optic. NOT

Glass is a liquid. NOT

Workshop 7 February 2004.
| | |
| --- | --- |
| A useful site for all science teachers, Graph paper as PDF files for your own printer: rectangular, logarithmic and more. | |
To See Older Explorations Go to the Archive.
Outdoor Adventures
My most recent adventures are on top.
| | |
| --- | --- |
| Morresa and Martin take me and Paul Morgan to the end of the earth to sea Kayak Tierra del Fuego and hike the W trek in Torres del Paine park. | Hiking down from Mirador Cerro Fitzroy |
| | |
| --- | --- |
| Paul Morgan and Jim Sulivan take me with them from Bishop to Mt. Whitney as they finish the John Muir trail. | |
| | |
| --- | --- |
| Hal and I introduce Galen to adventure climbing. Or as Hal says 5.7? | |
Bob Ayers introduced me to the exploration of slot canyons in June 2007.

We Explored the Escalante country.

Read about it here.
In September 2006, Martin and Morresa Meyer invited me to join them on a three week adventure free climbing and climbing Via Ferratas in Switzerland and in the Dolomites of Italy.

The first installment is now posted.


Morresa and Paul D in Via Ferrata gear.
Backpacking a 24 mile stretch of the California Coast inaccesible by road.

With Paul Morgan, Leslie Warren and Cole the Dog.

May, 2006
Paul Morgan and I hiked, climbed and mountain biked in the Owens Valley and around Moab for two weeks in 2005.

Here are tales of our adventures.
Daniel McColgan joins me and Hal Murray and Eric Wegryn on his first multipitch outdoor climb. 2005.

Paul Doherty leading on Squaw Dome, Southern Yosemite.
Up Lyell and around it via the Sierra High Route.

Right, Paul Morgan climbs the ridge of Mt. Lyell.->

50 miles in 5 days.

Adventure on trail and off.
Hal Murray and I visit Southern Yosemite in search of climbing and find interesting rocks.

June 1, 2003
| | |
| --- | --- |
| On our 25'th wedding anniversary Ellen and I took a trip to Bishop and visited some interesting local hot spots. | |
Teton Traverse on Telemark Skis

Martin and Morresa Meyer and I were guided by Glenn of Rendezvous Ski Tours on a traverse of the Tetons from Victor, Idaho to Jackson Hole, Wyoming on 19-20 March 2003. The image shows us near the end of the traverse, our route is in the background.
After many years away I joined a team of 5 other leaders and returned to Joshua Tree.

The weather was perfect, 60 F days and 40 F nights. We climbed from dawn to dusk and had a great time.

In this photo we are leading routes on the north face of Stirrup Rock.
with Paul Morgan

September 2002.

Long fun climbs!


Conness West Ridge
West Face, II 5.7

With Hal Murray and Chris Hibbert.

Fun climbing up a sea of chickenheads.

20 July 2002
The Old Original Route in the Pinnacles of California.

With Joe Hastings and Chris Hibbert.

June 30,2002.
February 2000. Hal and I experienced telemark skiing down perfect powder snow from a summit in the Selkirk Mountains of British Columbia.

My first week at the Durrand Glacier Chalet.

February 1999. Earning my turns near the Durrand Glacier Chalet high in the Selkirk mountains.
| | |
| --- | --- |
| Seven Continents. When I landed in Australia in February 2002 I touched my seventh continent. | |
New Zealand

January, 2002

with Bob Ayers
In September, Martin and Morresa Meyer and Paul Morgan joined me for a climb of the arete variation of the CMC route on Mount Moran in The Tetons of Wyoming.

We also climbed Wolf's Head in the Wind Rivers.

September 2001
Six of us visited the Grand Canyon.

We "hiked" from Swamp Point to Crazy Jug point . Some of the hiking was actually canyoneering.

We covered 8 straight line miles in 6 days.

June 2001
We did it!

We completed the first ascent of a 6100 m, 20,000 foot high Andean peak: Sierra Nevada de Lagunas Bravas. On 12 December, 2000, Bob Ayers, Paul Morgan, Tony Brake, and I went where no one had gone before. Read about it here.
Lunch Ledge,
Washington Column
October 22, 2000

Joe Hastings and I climbed the oldest technical rock climbing route in Yosemite Valley.

Here is the view up the south face of Washington Column.
Click the image to enlarge->
This climb leads up left of Yosemite Falls.
Oct 24, 2000 and Sep 1987

See Martin Meyer climb the final chimney.
Click the image to enlarge->

To See older Adventures go to the Archive
Writing, Media, Awards
My most recent publications are on top.
| | |
| --- | --- |
| In December I was a presenter at the Cosmology and Consciousness conference in Dharamsala, India. The conference was opened by the Dalai Lama who is shown here greating the speakers. My talk was my Boundaries of Science lecture, reduced to 20 minutes.More | |
| | |
| --- | --- |
| My postdoc Stephanie Chasteen asked me to preside at her wedding to Terry on September 10, 2011. She asked for a science reading, so I chose to read from Feynman Lectures on Physics Volume 1, chapter 3 page 10. "The Universe in a glass of wine." | |
I was invited to give the Keival lecture at Cornell.

Explorations demonstrated during the lecture.
| | |
| --- | --- |
| Saltwater battery Activities to accompany an article in the Physics Teacher Magazine. | |
Physics Teacher's Invention Fair

Here is the web page of the Fair,
27 - 29 August 2007, Charles University, Prague, Czech Republic
I delivered the keynote lecture at the 2007 Invention Fair in Prague.
Over 150 physics teachers gathered to share their latest hands-on physics explorations.
Learn Science by Doing Science here is a link to my powerpoint presentation
and here are links to the demonstrations that I presented.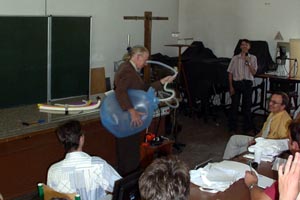 Paul Doherty plays the bag whirly.
| | |
| --- | --- |
| To celebrate the 75'th anniversary of the founding of the American Association of Physics Teachers, the members selected 75 physics teachers to write about what they thought was important to the future of physics education. I was honored to be chosen. | Paul Doherty |
In September of 2006 the Exploratorium Published the Exploratopia, a 384 page collection of science explorations for children 8 years old and older.

I was the science advisor to Pat Murphy who created the book. This book was the work of dozens of people at the Exploratorium. It creates new activities and harvests older ones.
Light refracted by airflow over the wing
of a commercial airliner.Shock Wave
| | |
| --- | --- |
| A live webcast of the transit was streamed into Second Life. | |
Total Solar Eclipse, Side, Turkey

March 29 2006

Paul plays the aluminum rod at Bistra castle

GIREP: The International Group for the Teaching of Physics, 2005

The 3rd International GIREP Seminar in Ljubljana Slovenia 5 to 9 September 2005, invited me to be a speaker.
I presented a paper on the Exploratorium Teacher Institute and did a science performance after the conference dinner at Bistra Castle.
Scientific American Magazine presented their Science and Technology web awards for 2004 in the category of astronomy the winner was the Exploratorium's Cassini-Huygens website. We beat out NASA!

In the award notice online they mentioned me by name suggesting that viewers watch, "riveting webcasts by Paul Doherty, the most enthusiastic astronomer ever to don a headset, and his game sidekick, NASA's Eric Wegryn. "


Pauld Doherty and "Sidekick" planetary scientist Dr. Eric Wegryn.
Iron Science Teacher

Cardioids
Contrail Shadow image a solution to a puzzle on Astronomy Picture of the Day.

A contrail, its shadow on the ground and on the air.

Click to enlarge.
| | |
| --- | --- |
| Explore listening with strings, balloons cake racks, paper towel rolls and more. | |
Ellen and I went to Costa Rica in August of 2004.
I was invited by Alejandra Leon of Cientec and sponsored by Jack's to be a speaker at the sixth congress of science and mathematics in Liberia, a city in Guanacaste province in northern Costa Rica.

Paul makes a pattern with floating coins as Alejandra translates.
June 7, 2004

Transit of Venus Program at the Exploratorium

See the crushing effects of the hot, dense Atmosphere of Venus, see what happens when sulfuric acid rain touches carbohydrates, feel a simulated air blast from a meteor on Venus.

by Paul Doherty and Eric Muller

Magnesium metal burns inside a block of dry ice.
April, 2004 Italy

Paul was invited to be a lecturer for the Fifth Astronomy Week in Italy. I lectured in: Calitri, Avellino, Naples, Rome, Florence, Perugia, Pavia and Milan. I also got to see ScienzaViva, a legendary science museum in Calitri, and to meet Pietro Cerreta, Canio Toglia, and Lucia Corbo.

Paul and Ellen in an Italian Opera house.
At the National Science Teachers National Convention of 2003 I was given the Faraday Award for excellence in science communication.

I was honored to be recognized by fellow science teachers and science communicators for work which I love to do.

Paul receives the NSTA Faraday Award from Steve Jacobs.
February 141,2004
Battle Chocolate.

In April 2004 I won the "Red Tape" battle at the Education Summit in Washington DC.

On October 12, 2001 A special version of Iron Science Teacher with just 2 contestants, me and Ken Brecher. Ken is a physicist/teacher from Boston University and also an MIT physics alumnus.

On July 28 2000 the secret ingredient was aluminum foil.
I presented an exploration of how foil shapes sink in air and water and won the coveted title of Iron Science Teacher.

Paul Competing
| | |
| --- | --- |
| | Paul and Ron in the webcast theater with the Mars Rover model, and a cart full of science demos. |
Images of Phenomena

Nearly 1000 of my images of scientific phenomena are available on-line through the Exploratorium: images of physics, geology, meteorology and more.

Check them out free at


A circumzenithal arc cuts through the sky above the treetops of Yosemite Valley.
| | |
| --- | --- |
| A monthly program of science experiments demonstrated by the world's greatest science teachers. | |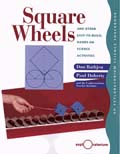 Square Wheels
by Don Rathjen and Paul Doherty
It is a continuation of the Exploratorium Science Snackbook Series with 30 brand new experiments.
Square Wheels was chosen as one of the best books of 2002 for teenagers by the New York Public Library.
See the Exploratorium website for ordering information.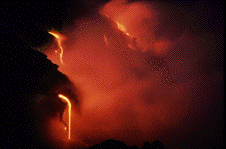 Hawaiian lava flows into the sea. © 2000William Neill
Book
Traces of Time
by Pat Murphy and Paul Doherty
photographs by William Neill
Published by Chronicle Books, September 2000
A guide to seeing the effects of time on the world. From the daily opening and closing of a California poppy, through the yearly growth rings of trees, to the million year long cooling of magma which forms the large crystals in the granite of Tuolumne meadows.
| | |
| --- | --- |
| This Australian Road sign is an appropriate warning when dealing with tuning forks. | |
| | |
| --- | --- |
| I was shocked to see a sign on a walk around Punakaiki Rocks on the west coast of the South Island of New Zealand that proudly proclaimed one of my favorite sayings. | |
Solar Eclipse 2001

I'm back from Zambia, Africa, where the Exploratorium team webcast the total solar eclipse on June 21, the solstice.

It was the most spectacular eclipse of the 6 central eclipses I have seen.

Check out our adventures here and on the Exploratorium Eclipse site.

You can watch the archive of our webcast at the same site too.
See how I became a Vogue fashion model.

My cousin Pat says of all the adventures on my web page this one is the hardest to believe!

I appeared in Vogue L'oumo, Italian men's Vogue, in the May/June 2000 issue. In an article on "Men of Science."
Waves

Shadows

and much more.
To See Older Material go to the Archive.